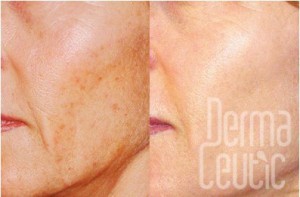 Cosmo peels are our deepest peel and are TCA peels. They are a quick and comfortable treatment that require no downtime. Each Cosmo peel includes 4 in clinic peels and all the homecare needed to achieve and maintain best results. Each peel is spaced 2 weeks apart and takes approx. 20 mins. The homecare includes a glycolic cleanser (Foamer 15), a vitamin C anti-oxidant serum (Serum C25), a glycolic cream (Turnover Cream), lightening cream (Light Ceutic), and repairing cream with SPF 40(K Ceutic). The homecare must be started 2 weeks prior to in clinic peels to prepare the skin and ensure best results. UV exposure should be avoided during the entire course of treatments and for 1 month after the last treatment. These peels are ideal for people with acne scarring, wrinkles, thin or frail skin, sagging skin, pigmentation or deep sun damage. People who have a "smokers skin" or "leathery skin" from sun damage should look at Cosmo peels.
Dermaceutic describes the Cosmo Peel.
Rejuvenation peels create drastic results with low down time.

They improve the texture and luminescence of your skin.

They stimulate cell renewal, reduce lines and wrinkles.

Rejuvenation peels delay skin ageing.

Your skin will regain a soft and rejuvenated appearance day after day.
Description of a treatment session.
A session generally lasts 15-30 minutes.
The skin is cleaned with a pre-peel cleanser.
The product is applied all over the area.
You will feel a slight tingling sensation on your skin.
A heating sensation is normal.
Your skin care specialist will apply the Cosmocream.
You will return home with the cream on and remove it after 12 hours.

A few days after the treatment some light peeling is expected, which is normal.
It is a rejuvenation peel, so you can continue all your routine activities in between the sessions. Simply follow the few precautions your skin care specialist may advise.
Stretch mark treatment.
This requires a specific protocol: ask us for advice. Experience has shown that the Cosmo Peel is efficient on stretch marks under occlusive action.
Preparation and follow-up for a Cosmo peel.
To achieve optimal results your Skin2 skin care specialist will recommend a personalized follow up program for your skin based on your skins specific needs.
Please advise us of any of the following: pregnancy, allergic reactions in the past, current treatments (hair removal, tanning, micro-dermabrasion), medication, etc.