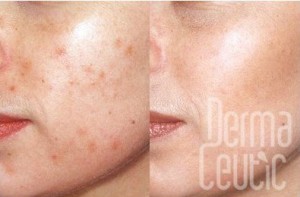 Milk peels are a gentle peel using glycolic, lactic, and salicylic acids. They are a quick and comfortable treatment that required no downtime. Each Milk peel includes 4 in clinic peels and all the homecare needed to achieve and maintain best results. Each peel is spaced 2 weeks apart and takes approx. 20 mins. The homecare includes a glycolic cleanser (Foamer 15), a vitamin C anti-oxidant serum (Serum C25), a glycolic cream (Turnover Cream), and a moisturizing and repairing cream (Hyal Ceutic). The homecare must be started 2 weeks prior to in clinic peels to prepare the skin and ensure best results. UV exposure should be avoided for 1 week after each treatment. These peels treat a wide range of concerns and are perfect for people seeking a general anti-aging and rejuvenating look. You can treat concerns such as acne, open or enlarged pores, dull skin, dry skin, wrinkles, and pigmentation or sun damage. Read about our client's Milk peel makeover.
Dermaceutic describes the Milk peel.
Gentle peels produce drastic results with no down time.

Darker skin tones can be safely treated.

Improves the texture and luminescence.

Reduce fine lines, increases hydration and decreases open pores. 
Description of a treatment session.
A session generally lasts 15-30 minutes and is made up of several steps.
Skin is cleaned with a special pre-peel cleanser.
Peel is applied all over the area and left for a few minutes to take effect.
You will feel a slight tingling sensation.
Once the time is up, the product is removed.
Your skin will look immediately refreshed but the real rejuvenating effect will come out progressively: your skin will become beautiful and glowing. Therefore it is important to repeat the treatment at least four times every two weeks. Because it is a gentle peel, you can continue all your routine activities in between the sessions. Simply follow the few precautions your doctor may advise.
Preparation and follow-up for a Milk peel.
To achieve optimal results your Skin2 skin care specialist will recommend a personalized follow up program for your skin based on your skins specific needs.
Please advise us of any of the following: pregnancy, allergic reactions in the past, current treatments (hair removal, tanning, micro-dermabrasion), medication, etc.