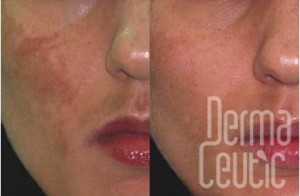 Spot peels are a medium depth peel using mandelic acid, idebenone, embilica, salicylic acid, and retinyl palmitate. They are a quick and comfortable treatment that required no downtime. Spot peels are preformed once in clinic and have 3-4 months of homecare treatment. A second spot peel may be preformed 1 month after the first if needed to achieve best results. The treatment requires 2 weeks of skin preparation with proper homecare and then a 30 min in clinic treatment. This peel has the most at home maintenance as it continues to gently peel and improve skin over a longer period of time. The homecare includes a glycolic cleanser (Foamer 15), a vitamin C anti-oxidant serum (Serum C25), a lightening cream (Light Ceutic), a depigmentation cream (Spot Cream), a depigmentation concentrate (Yellow Cream), and a repairing cream with SPF 40 (K Ceutic). UV exposure should be avoided for 1 month after treatment and continued use of a high quality SPF is needed to maintain results. These peels are targeted for people with pigmentation, sun damage, and melasma.
Dermaceutic describes the Spot peel.
Melasma and deeper skin marks will be reduced.

The Dermaceutic depigmentation peels provide blemish-free skin. 

You will have a smooth, beautiful complexion free from dark spots and melasma for months.
Description of a Spot peel treatment session.
A session generally lasts 15-30 minutes.
Your skin is cleaned with a special pre-peel cleanser.
The product is applied all over the face several times.
You will return home still wearing the peel but nobody will see it.
You will remove it 8 hours later.
Preparation and follow-up to a Spot peel
To achieve optimal results your Skin2 skin care specialist will recommend a personalized follow up program for your skin based on your skins specific needs. At home you may use Light Ceutic to maximise the depigmenting action before the peeling. Then after the peel, use Spot Cream on the spots, and progressively replace Spot Cream with the depigmenting concentrate Yellow Cream, which regulates melanin biosynthesis (inhibition of tyrosinase).
Please advise us of any of the following: pregnancy, allergic reactions in the past, current treatments (hair removal, tanning, micro-dermabrasion), medication, etc.